Imaging Services
ACR Accredited Imaging Facility
Optima Diagnostic Imaging Center is world-class image servicing center, fully equipped in Beverly Hills to provide complete, advanced imaging services for patients and physicians throughout Southern California including CAT scan, PET/CT, MRI, genetic testing & more at our cutting-edge Los Angeles location. Our center has been created with both the comfort of our patients and the convenience for referring physicians in mind.
ODIC has been awarded accreditation in diagnostic CT, PET/CT and MRI after a comprehensive review performed by the American College of Radiology (ACR).
Patient Comfort, Physician Convenience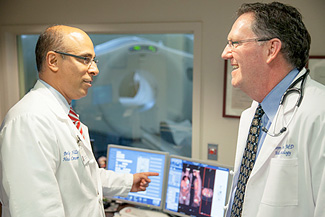 For patients, we provide a host of amenities, services and conveniences, from free valet parking to shorter, more comfortable exams, all of which can make your necessary testing as pleasant and worry-free as possible.
For physicians, we provide expertly executed CAT scan, MRI, PET/CT, bone scan, 3D and 4D ultrasound, bone density, genetic testing, or nuclear studies at our state-of-the-art Los Angeles facility, all read by Board-Certified Radiologists who are experts in their field.
When doctors need reports and images fast, our web-based PACS system provides access from anywhere in the world. In addition, we use an advanced digital electronic medical records system to streamline reporting and eliminate paperwork.
Select a link to learn more about our Advanced Imaging Services:
Optima Diagnostic Imaging in Los Angeles offers same-day appointments and flexible scheduling tailored to the needs of our patients and is the first choice for both patients and referring physicians for convenient, state-of-the-art imaging services.